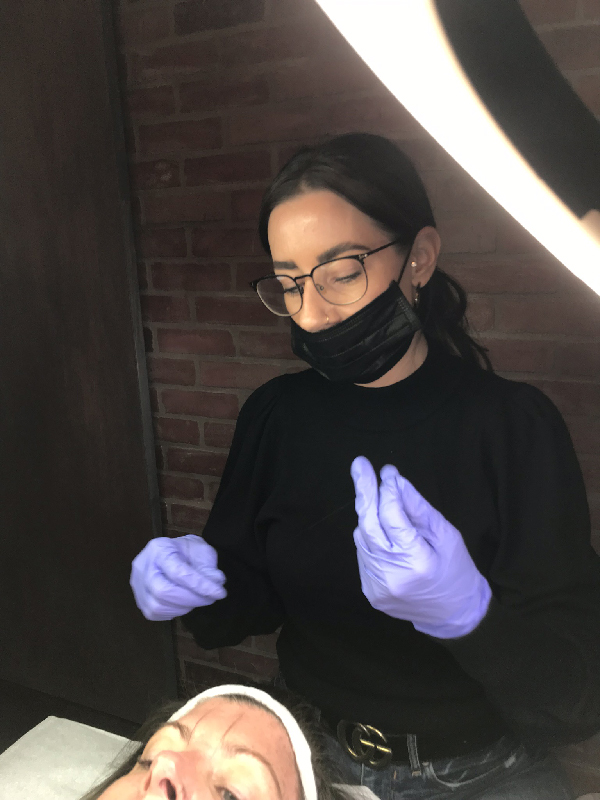 What is Microblading?
Microblading is a form of permanent makeup that provides a means to partially or fully camouflage missing eyebrow hair with the appearance of simulated hair-like strokes using fine deposits of cosmetic tattoo pigments. This method is ideal for anyone wanting to enhance the look of their eyebrows. The results are natural-looking, hair-like strokes, regardless of the current condition of your preexisting eyebrows. It is considered to be semi-permanent. It is done using a very fine blade to deposit pigments into the epidermis and this is why the strokes appear crisp and fine to replicate natural eyebrow hair. The pigments used in this method have been formulated to match your original eyebrow color, and if the eyebrows are still present, blend perfectly into them. The results are a natural, flawless, fuller looking brow. Initially, the brows appear darker but fade significantly over a two week period.
It is absolutely crucial to have a touch up done, as it is very difficult to predict how well the skin will retain the pigment. The pigment can stay on your skin from 1 to 3 years. A touch up once a year is recommended to retain the shape and saturation of pigment. Topical anesthetics are applied before and during the treatment to alleviate any discomfort, however, every client has a different pain sensitivity. You will hear a scratch noise/sensation throughout. I am a social person, however, I ask for minimal talking during the strokes, because your muscles should be still for optimal results. I will have music playing during this procedure, please feel free to bring your headphones if it will help you relax.
Cancellation Policy – Please give a 48-hour notice.
Price/Timing:
The cost for new clients is $500 for the initial session.
$600 for Hybrid Brows (microblading and shading with the machine)
First touch-ups are $100 which are 6-8 weeks after the initial appointment.
Your first touch up will be booked as you leave the initial appointment.